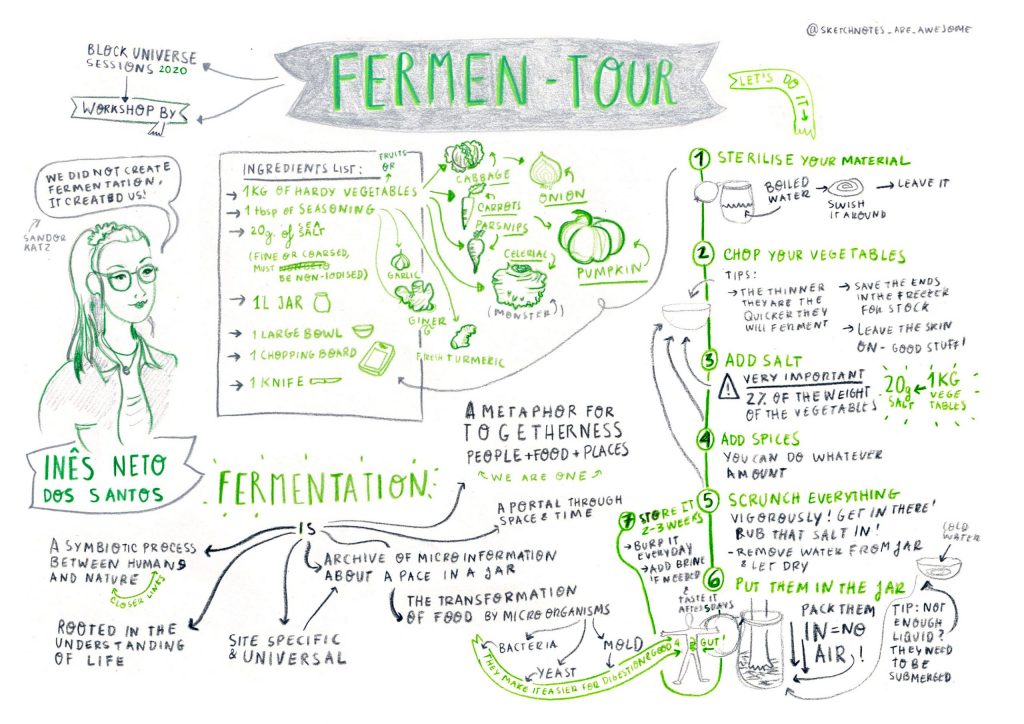 FERMEN-TOUR
Workshop by Inês Neto dos Santos
Since the beginnings of life on Earth, unseen microorganisms have been performing their collaborative dance on an infinite loop. The process of fermentation taps into the activity of bacteria, yeasts and moulds, teaching us the importance of community, cooperation and the interconnectedness of all things. In this session, we will learn the basic principles for fermenting vegetables, while exploring fermentation as a site-specific practice: a unique map of space-time points which relies on a constant symbiotic relationship linking humans and nature.
You can find the recipe here: Fermentation Recipe by Inês Neto dos Santos
Ingredients & utensils:
1kg of any hardy vegetables, such as: cabbage, carrots, parsnips, celeriac, pumpkin, onions… (just one or a mix!)
1 tbsp of seasoning: garlic, ginger, fresh or powdered turmeric, cumin seeds, coriander seeds, mustard seeds… (possibilities are endless!)
20g of sea salt (fine or coarse, must be non-iodised)
1L jar (or a selection or smaller jars)
1 large bowl
1 chopping board
1 knife
Some freshly boiled water
1 notebook/paper for taking notes (optional)
Image credits
1. Sketch note of the workshop by Elvia Vasconcelos
2 – 4: Stills from 'FERMEN-TOUR'.