The Bigger Sleep – rehush (hush)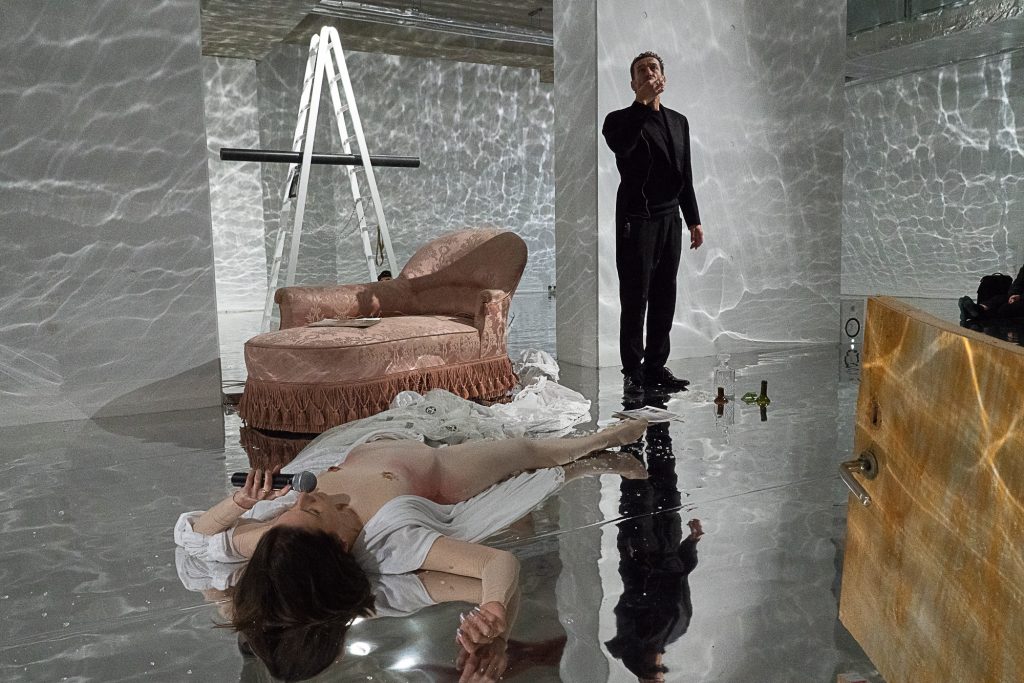 The Bigger Sleep – rehush (hush) is an adaptation of Jung's major installation at the Kunstmuseum Basel into a site-specific performance for Block Universe.
While in the former iteration, 'Frau Welt', the languid protagonist of the piece, resided in her glamorously furnished "now-a-clock"-mansion, her delusion has now visibly cracked. We are asked to enter the psychological space of a starkly lit basement below a vacant building, in which the lethargic haggle between presence and absence, or the speculative and the substantive has become undeniable. A redundant figure, still posturing as rulingly classy, Frau Welt reads her script, veers off, sings and sighs, shrugs and goes on rehearsing for a future that has long been cancelled while her unnamable servant serves her "burbon after borbon after burbun after borbun"
Harnessing the complexities of language, Jung makes subtle alterations to open up new dimensions of meaning, that throw the theatricality of the real and the authenticity of play-acting into relief in a glossy but crumbling world of anticipatory grief, derailed by the "vacuous promises and looped distractions of terminal capitalism", in which nothing seems as it is.
The set could be visited daily from 11am to 6pm from the 19 May to 1 June.
Performance schedule:
Saturday, 18 May 2019, 9pm
Wednesday, 29 May 2019, 9pm
Thursday, 30 May 2019, 9pm
Saturday, 1 June 2019, 9pm
Special Event (Free):
Sunday, 19 May 2019, 12:00 Reading, 1:30pm Sophie Jung in conversation with Paul Clinton
Cork Street Galleries, 30 Old Burlington Street, London W1S 3AR
* UK Premiere -
With the support of the Swiss Arts Council Pro Helvetia, Swiss Cultural Fund and National Culture Fund, Luxembourg (FOCUNA)
Photos by   Manuela Barczewski