Territorial Symphonies: 58th Venice Biennale, 2019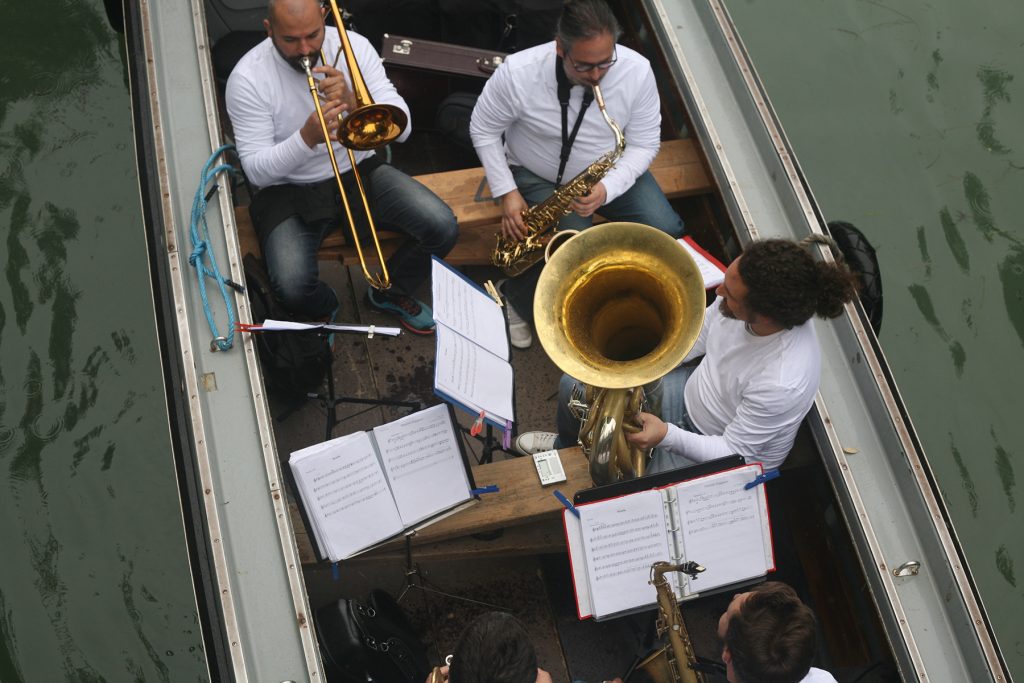 Territorial Symphonies is a new commission by Indrė Šerpytytė, produced by Block Universe. The commission is presented in partnership with Dubai-based Alserkal, with the additional support of the Lithuanian Culture Institute and the High Commission of Cyprus, UK. 
All performances will take place on the Rio dei Giardini.
Wednesday, May 8: 3–4:30pm
Thursday, May 9: 10:30–11:30am in front of the Navy Officers Club and 3-4:30pm
Friday, May 10: 3–4:30pm
During the 58th Venice Biennale Indrė Šerpytytė presents Territorial Symphonies. This new commission explores inclusion and exclusion in the biennale, one of the most prominent moments in the international arts calendar. In Territorial Symphonies a brass band plays national anthems of the more than 60 countries that came later to his world stage. Not having the luxury of a permanent space, their pavilions lie outside of Giardini.
Taking this as a starting point, this new work seeks to highlight the power dynamic between the countries on the inside and outside. As an act of protest, the performers will play outside the bounds of the Giardini, highlighting the countries'inability to have a presence within the grounds itself. Forming a continuous fanfare to the missing and absent, the work asks us to reassess the established borders and territories that govern geopolitical landscapes and ideologies.
Countries in full:
Albania, Andorra, Antigua and Barbuda, Argentina, Armenia, Azerbaijan, Bangladesh, Belarus, Bosnia & Herzegovina, Bulgaria, Chile, China (People's Republic of), Croatia, Cuba, Cyprus, Dominican Republic, Estonia, Georgia, Ghana, Grenada, Guatemala, Haiti, Iceland, India, Indonesia, Iran, Iraq, Ireland, Ivory Coast, Kiribati, Kosovo, Latvia, Lithuania, Luxembourg, Madagascar, Malaysia, Malta, Mexico, Mongolia, Montenegro, Mozambique, New Zealand, North Macedonia, Pakistan, Peru, Philippines, Portugal, San Marino, Saudi Arabia, Scotland, Seychelles (Republic of), Singapore, Slovenia, South Africa (Republic of), Syrian Arab Republic, Thailand, Turkey, Ukraine, United Arab Emirates, Wales, Zimbabwe.