Cecilia Bengolea with Craig Black Eagle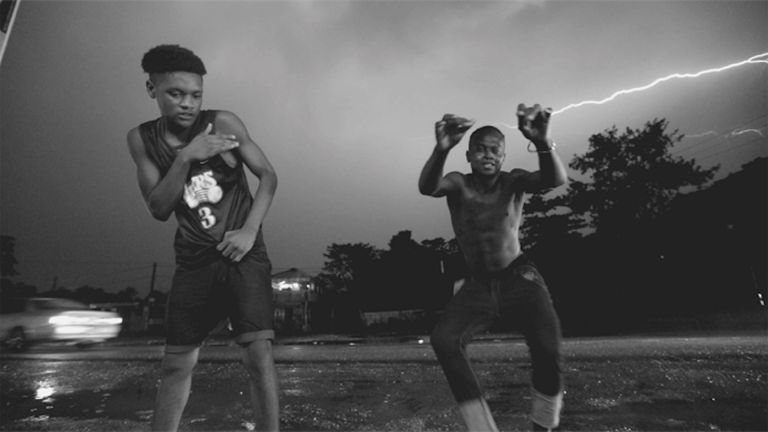 Screening of the Black-and-white video. Duration : 6:03 min
Filmed during floods in Spanish Town, Jamaica, Lightning Dance investigates the influence of the indeterminate electric weather on bodily imagination. The black-and-white video promotes dancehall   choreographers culture; Craig Black Eagle, Oshane Overload, Nick Overload, Teroy Overload who, in the company of the artist, perform solo and group dance routines next to a roadside shack, while heavy rain falls and a billowing, turbulent thunderstorm roars, soaking their clothes. Their movements refer to popular Jamaican Dancehall, a highly sexualized dance style, which Bengolea sees as infused with magical healing powers.
CECILIA BENGOLEA (b. 1984, Buenos, Aires, AR), lives and works in Paris.
She studied Philosophy and Art History at Buenos Aires University and followed the choreographic master Ex.e.r.c.e. by Mathilde Monnier in Montpellier. Bengolea's video installations and performances have been exhibited at the Gwangju Biennial, Biennale de Lyon, The Tanks and Tate Modern, Faena Arts Center, Buenos Aires; Fig-2 25/50 at ICA, London; Block Universe London; Dia Art Foundation; Tokyo Spiral Hall, Biennale de Sao Paulo; The Infinite Mix, Hayward Gallery London; Elevation 1049, Gstaad; Palais de Tokyo; ICA London; Fiorucci Art Trust, Stromboli and Dhaka Art Summit; TBA21 San Lorenzo Venice; Art Basel Miami Faena; E.A.T Engadin Art Talks; Centre Pompidou; ArteBA Buenos Aires; DesertX; Bienale de Venezia; Der Tank Art Basel; Jean Nouvel train station Geneve Champel. Bengolea has collaborated with french choreographer François Chaignaud since 2005. Their collaborative work Pâquerette (2005-2008) and Sylphides (2009) won the Award de la Critique de Paris in 2010 and the Young Artist Prize at the Gwangju Biennial in 2014. They have co-created dance pieces for their dance company as well as for the Ballet de Lyon (2013), the Ballet de Lorraine (2014) and Pina Bausch Tanztheater Wuppertal (2015). Bengolea collaborates with dancehall artists such as Craig Black Eagle, Bombom DHQ, Damion BG, and with artists Dominique Gonzalez Forster and Jeremy Deller.