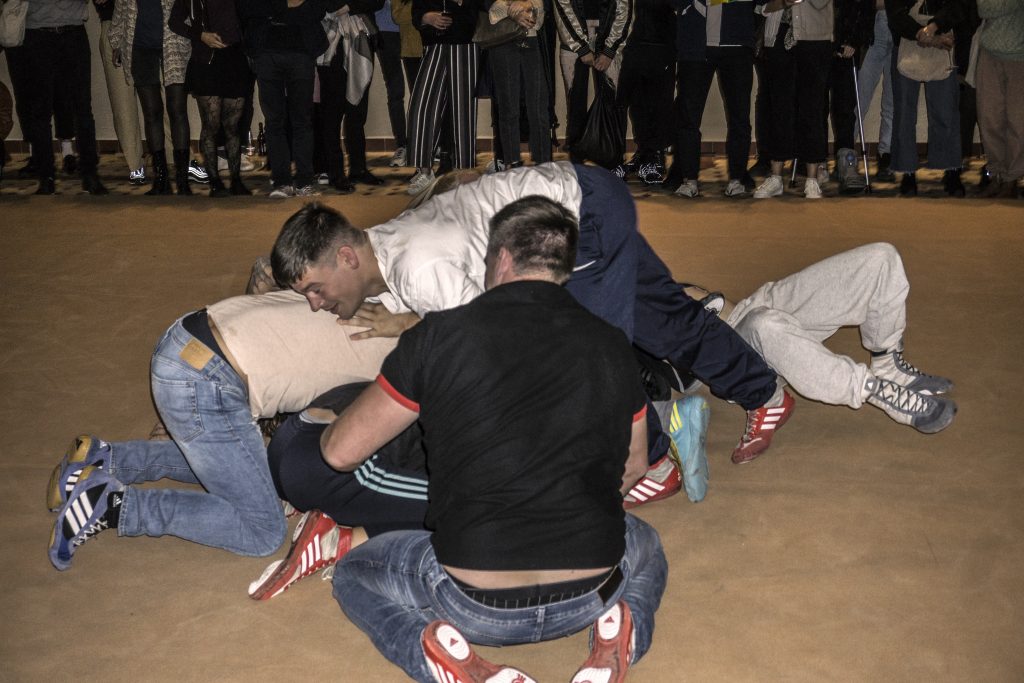 Nina Beier's work test how value is constructed and undone, serving as a meditation on the multitude of power structures that make up our society. Disregarding usual martial arts categorisations of age, gender and weight classes, Beier's new performance Class, 2019 at E-Werk Luckenwalde's Turbine Hall, incorporates freestyle wrestlers from the world-renowned Luckenwalder Sportclub, wearing perfumes generally marketed to each their specific demographic. Relying on select rules of the game and the skill sets of the athletes, this charged work bricolages disparate tropes of both violence and identity. While the odours blend, the bodies on display produce a fluctuating image of authority and dominance. The staged nature of Class, 2019 continues Beier's recurring interest in the possibility of cohabitation of the real and its own representation in the same object or action.
Freestyle wrestlers, carpet, perfumes: Opium, Lynx, Davidoff, Miss Dior, etc
Duration: max. 15 min
With Special Thanks to The World Famous Wrestling Clubs: 1.Luckenwalder Sportclub e.V. & RSV Hansa 90 Frankfurt (oder) e.V
About Luckenwalder Sportclub:
Originated in 1897, "Adler 1897", The 1. Club for athletes was focused on heavy athletics. International success came to Luckenwalde with the first medal for the European Championship in 1963. Since then, wrestlers trained in Luckenwalde have participated in the World Championships, the European Championships and the Olympic Games.
Caption: Nina Beier, Age, 2015. Performance during Nina Beier: Anti-ageing (2015) seen in Swiss Institute Annual Architecture and Design Series: 2nd Edition, PAVILLON DE L'ESPRIT NOUVEAU: A 21st Century Show Home at the Swiss Institute, New York. Photo: Daniel Perez