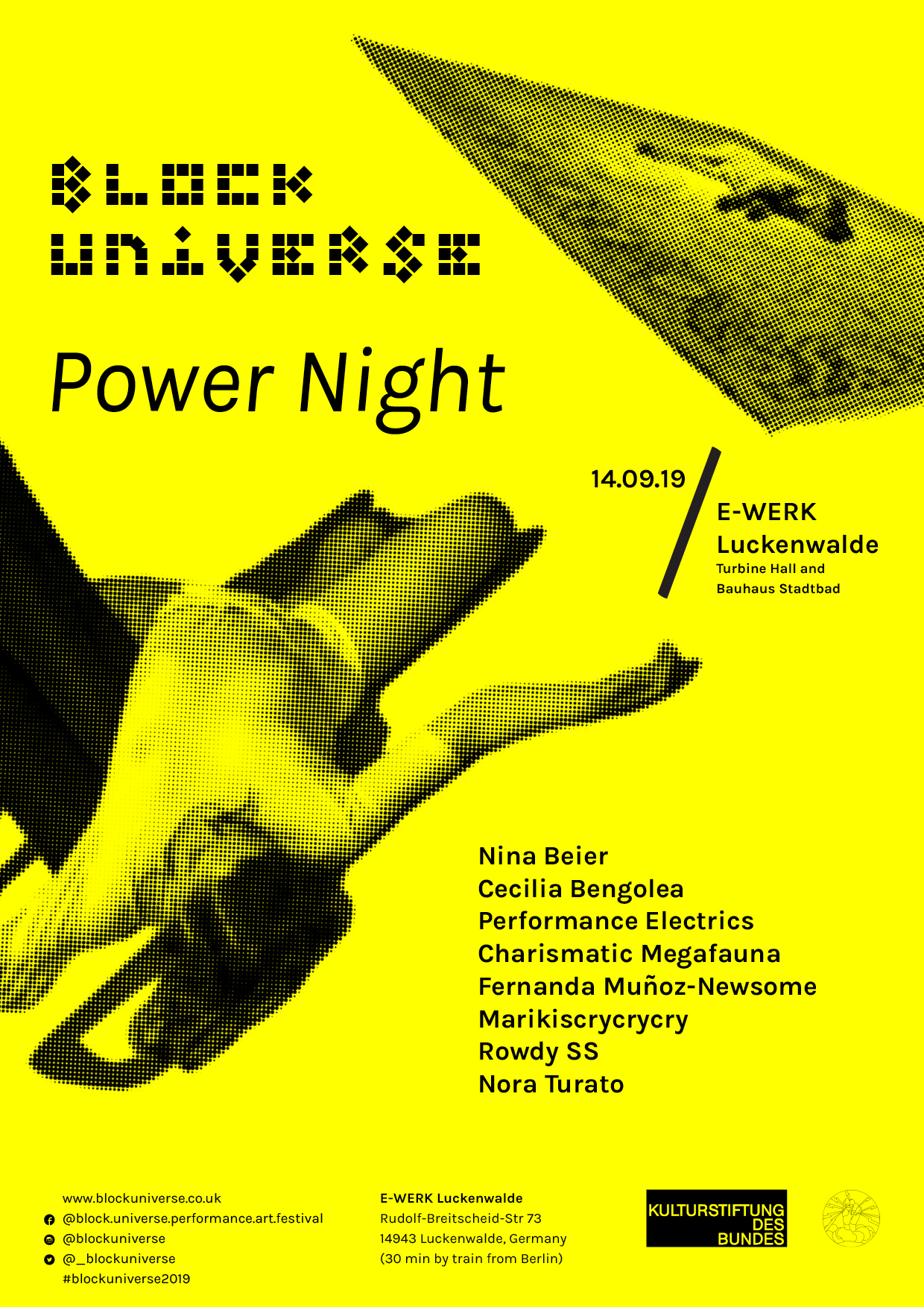 Saturday, 14 September 2019
POWER NIGHT is an ambitious performance programme including new commissions and premieres by 8 international artists and collaborators for the launch of E-Werk Luckenwalde, a new institution in Germany. POWER NIGHT is a one night event curated by Block Universe's Founding Director & Curator Louise O'Kelly and Curator & Director of International Programme Katharina Worf. 
Fittingly, for a curated programme that spans both Europe and the UK in the current political context, the 2019 programme of Block Universe explores the concept of internal and external 'world-making' by looking at the diverse environments and realities we create for ourselves to exist within, whether those be mental, physical or virtual spaces. Taking place alongside Berlin Art Week, this first edition of POWER NIGHT reflects on the vision of sustainable futures in the context of a historic power station, whose very fabric carries a wealth of history and collective memory. Taking E-WERK's position as a new model for a sustainable institution and power station, the performance programme asks us to consider our role in shaping the world that we live in.
Block Universe consists of an international, female-led team Founding Director & Curator Louise O'Kelly, Katharina Worf, Curator & Director of International Programme; Xica Aires, Head of Production and Tatjana Damm, Managing Director. This year we are grateful for the support from communication assistant Sara Muthi.
The project is supported by KSB – Kulturstiftung des Bundes.
Saturday, 14 September 2019
6:15PM – 6:30PM
COAL, Performance Electrics, EW Turbine Hall & Engine Room
*Premiere
6:30PM- 06:45PM
LIGHTNING DANCE, Cecilia Bengolea with Craig Black Eagle – EW Turbine Hall
6:45PM – 7:15PM
a body rites itself Рphases of, Fernanda Mu̱oz-Newsomen collab. with India Harvey and Josh Anio Grigg РEW Control Centre (Limited Capacity)
7:15PM – 7:45PM
Nora Turato – Â EW Courtyard
8PM – 8:30PM
a body rites itself Рphases of, Fernanda Mu̱oz-Newsomen collab. with India Harvey and Josh Anio Grigg РEW Control Centre (Limited Capacity)
8:30PM – 9PM
He's Dead, Marikiscrycrycry in collab. with Gareth Chambers – Hallway, EW Turbine Hall
09:15PM – 09:30PM
CLASS, Nina Beier, EW Turbine Hall
*Premiere
9:30PM – 11PM
Rowdy SS, IN/TENSE/MINIMAL/ZERO, Bauhaus Stadtbad
*Premiere
11:15PM – Midnight
Charismatic Megafauna, FLUXDOME
From 12midnight
DJ set in the EW Turbine Hall